Wow, 2017 is here? Already?! I guess it's true what they say about time flying when you're having fun. Each year I like to take a moment to reflect on some of the highlights of the previous twelve months, to try to grasp some of the many fleeting moments I've captured and experienced. It all happens so fast, especially in the world of sports photography. Most of my clients need the images almost as soon as I click the shutter button. I hustle from the baseline to my laptop so I can edit and upload then go back to the baseline and repeat. Over and over. I love what I do. I've witnessed and documented some of the greatest moments in contemporary basketball history. And 2016 was a year of milestones and experiences that I will never forget. Read on to share in my journey.
I made a couple trips to Springfield, Massachusetts in 2016. More on my second visit later. For my first visit I teamed up with the Basketball Hall of Fame to make portraits of some of America's top boys basketball players and to capture some of the annual Hoop Hall Classic. I had such a great time with this shoot in 2015 and was thrilled to join the team again in 2016.
Converting the hallowed grounds that are the Naismith Basketball Hall of Fame into my studio for a weekend is an honor and sharing the experience with the young men who stand before my lens brings me great joy. Those who know me know that I take great pride in having spent a large part of my life working in youth development so connecting with this group is always fun. I'm very much looking forward to teaming up with the Basketball Hall of Fame again in 2017.
In 2016 I teamed up with Nike again for my third season with the EYBL and it just gets sweeter every year. In 2016 we traveled to Boo Williams in Virginia, Indiana, Atlanta, and for the first time in EYBL history a stop in my hometown of New York City. As usual, the season culminated with my favorite basketball event of the year, Peach Jam down in South Carolina.
It's always great to see new faces as well as the returning players and feel the palpable energy of the new season. Every team arrives with a clean slate and the high hopes of dominating the league and enjoying peaches at the end of the season. The New York Rens joined the league for the first time and sported orange patches in support of ending gun violence, which received some well-deserved national attention. For the New York stop during session 1 Nike took over the Brooklyn cruise terminal and turned it into an enchanting factory of hoops complete with dramatic lighting which made for some great photo opportunities.
Over the summer, between the EYBL and Peach Jam, I spent time in Saint Louis and Los Angeles for the Elite 100 and Nike skills academy respectively. In addition to documenting the high level training and the pros jumping into the workouts and games with the invitees, I love learning from the coaches and soaking in as much of the wealth of knowledge as I can. I also love the great food in Saint Louis and the sights of L.A. I left the skills academies inspired to coach, play, and shoot even more. It's truly a great experience from beginning to end.
This summer I also teamed up with Chris Paul to document his skills academy in Winston-Salem, North Carolina for point guards. This was my first time working with Chris and what a great experience. Above all his passion for his program and its players was powerful and admirable. Needless to say, I learned a bunch this summer both on the sidelines and on the court.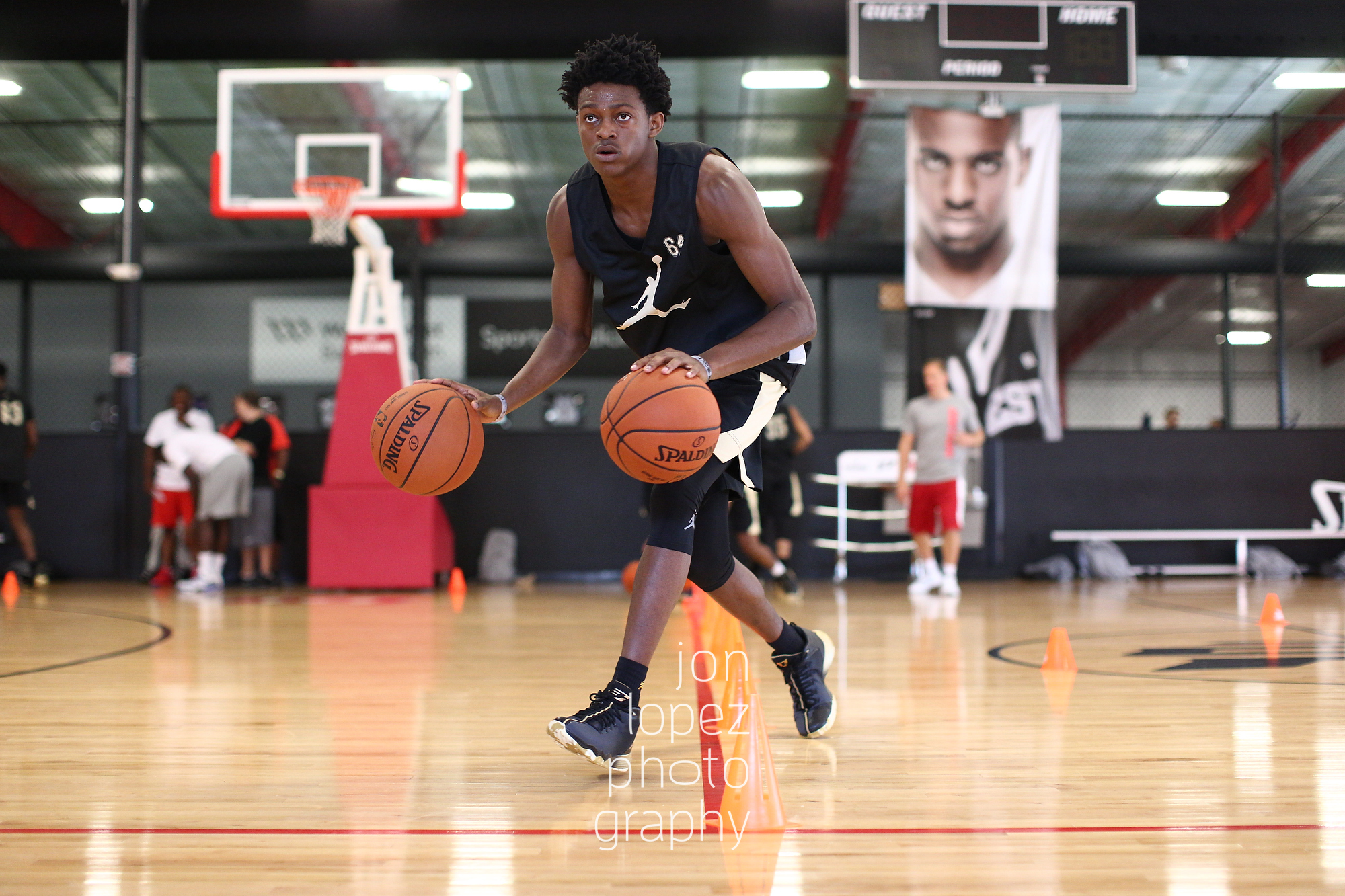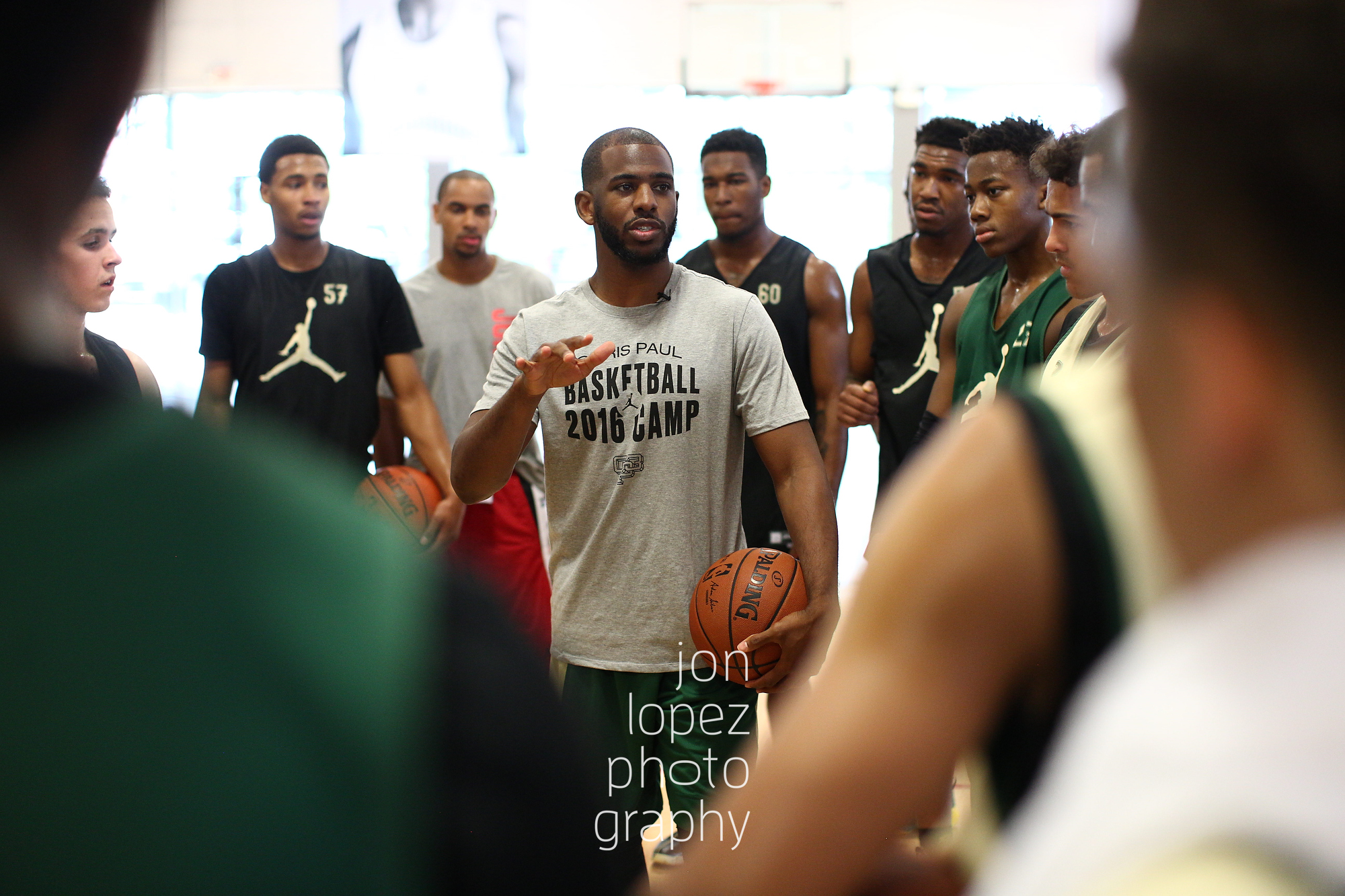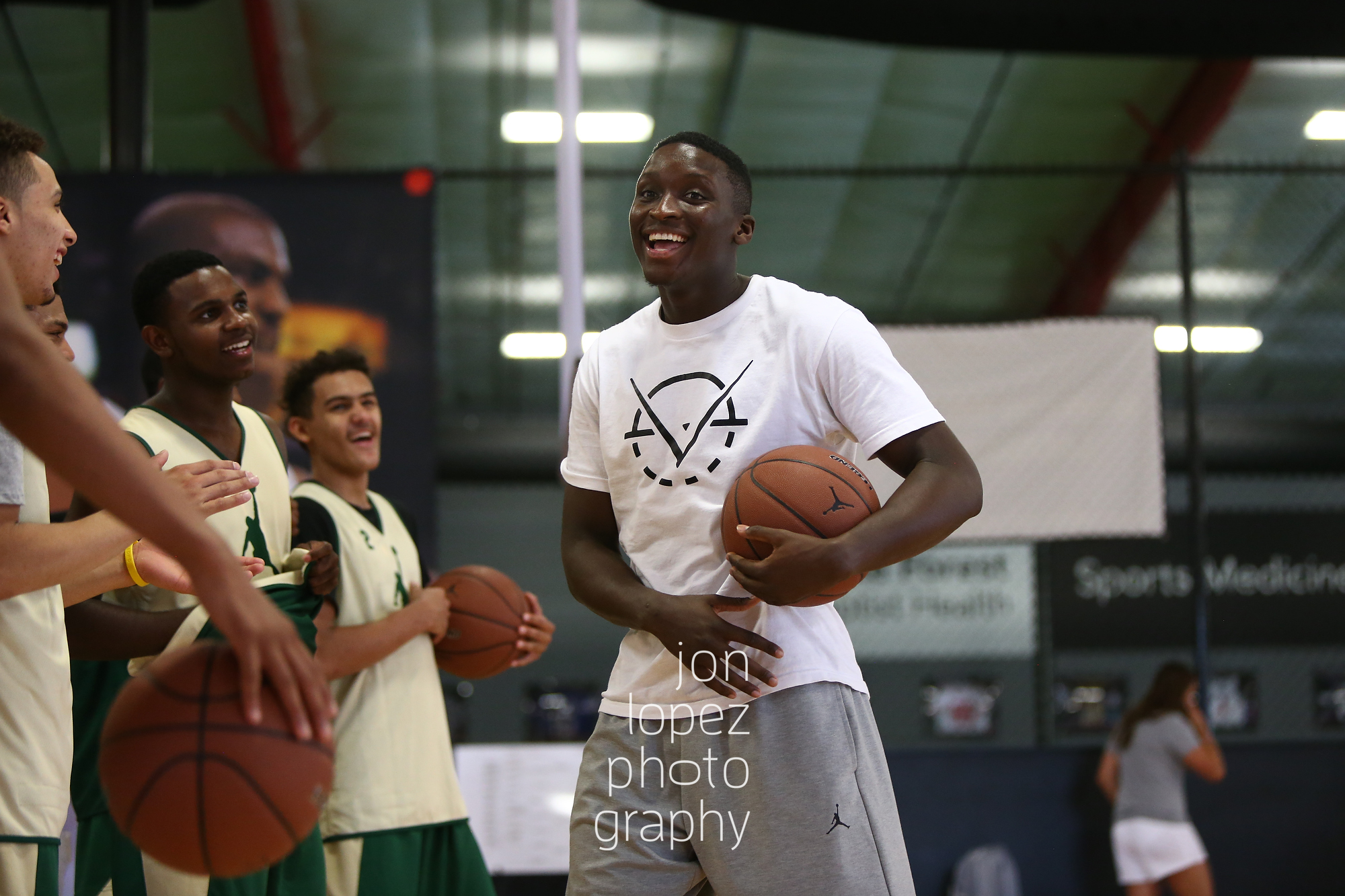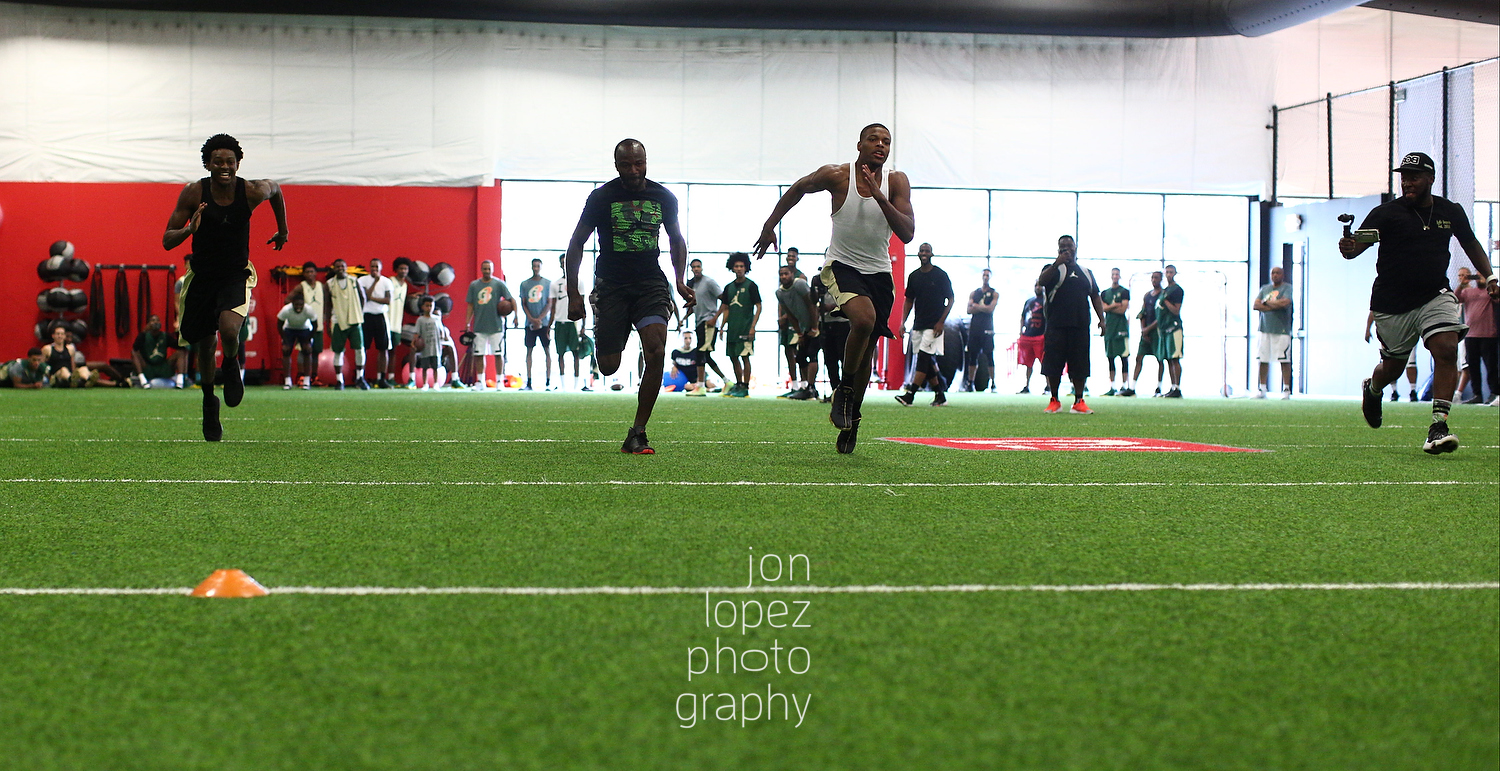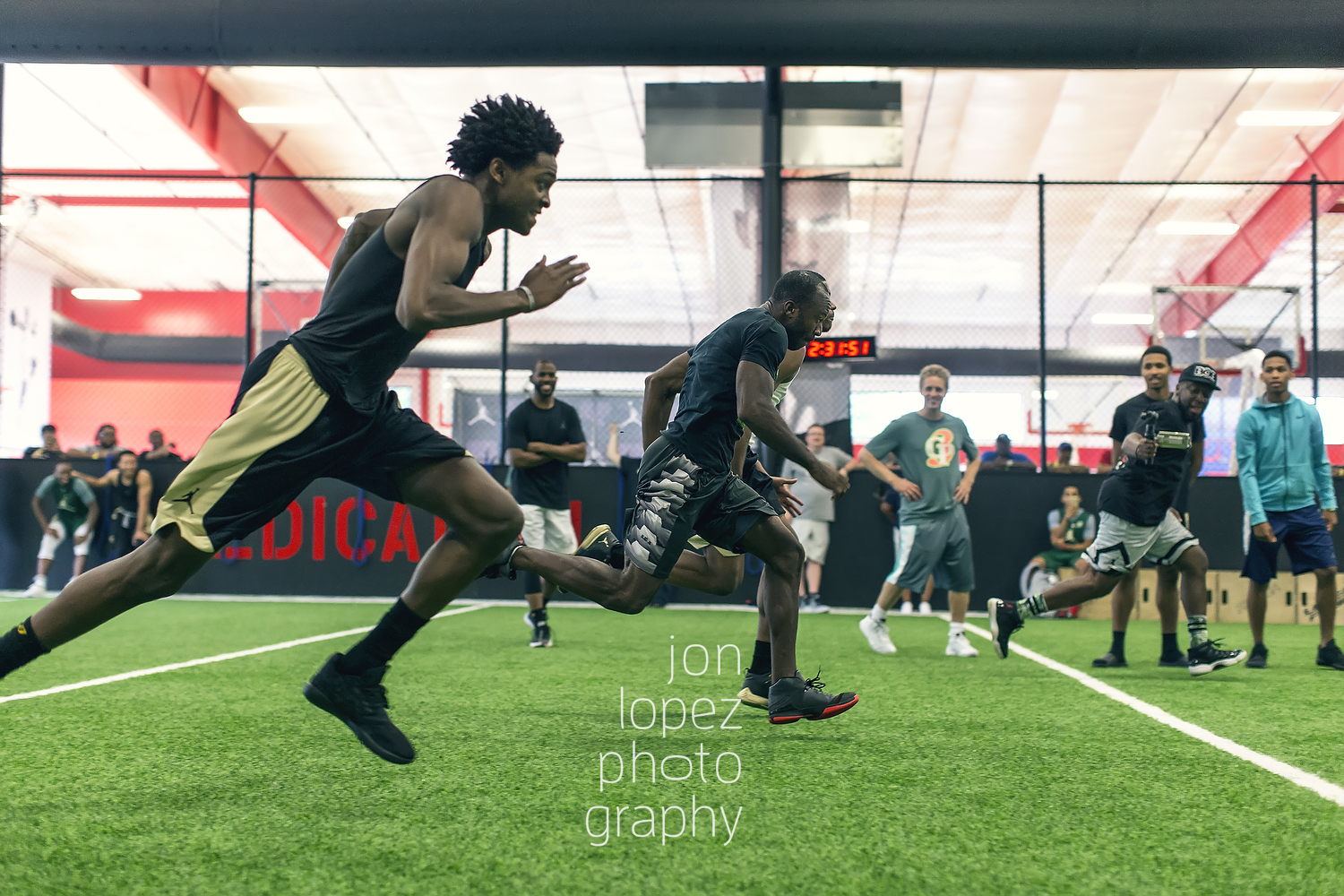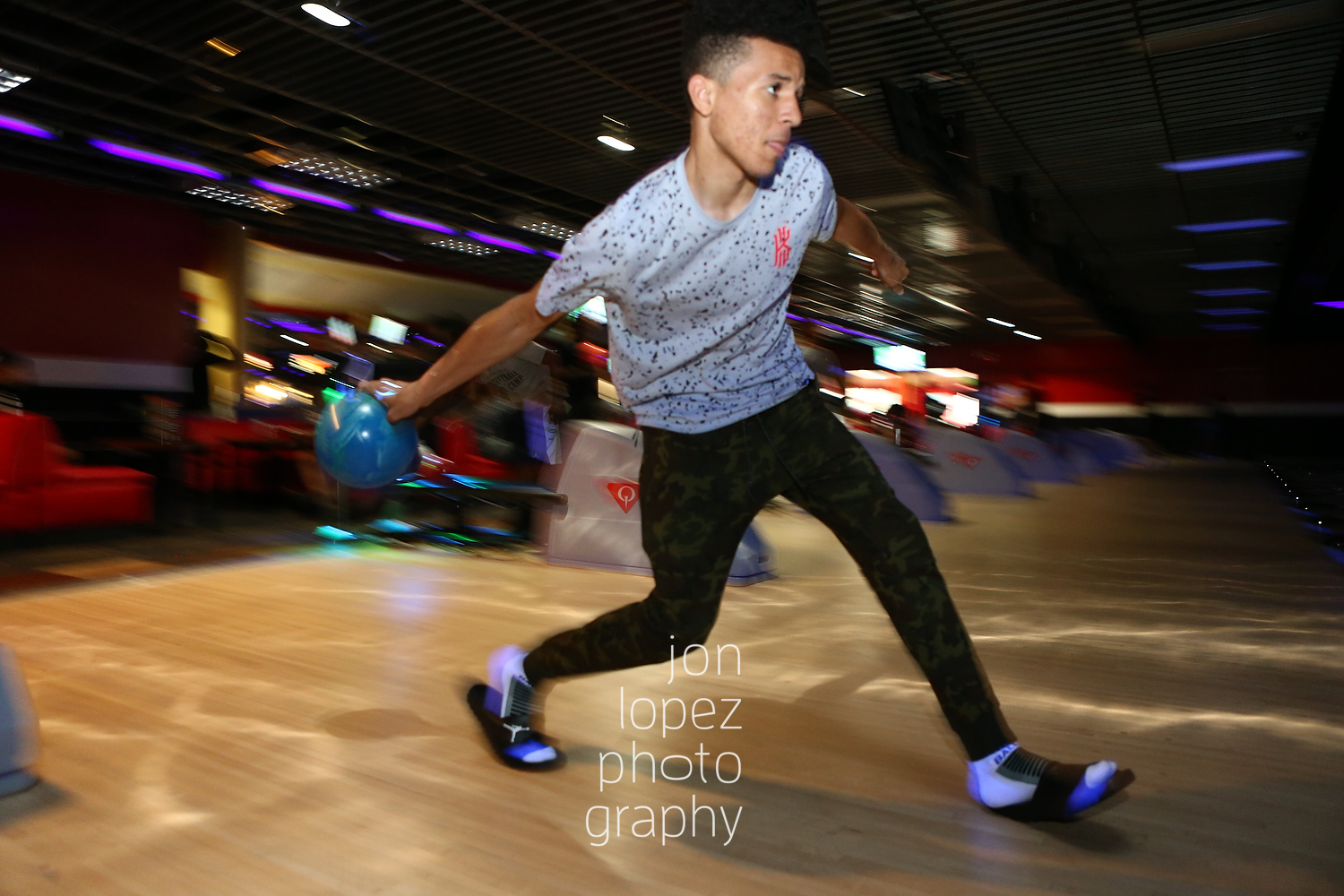 Chris Paul hosts an annual tournament called The 8 which features eight teams sponsored or coached by NBA players like Team Melo for instance. The tournament takes place in Las Vegas and coincides with the Super 64 and other major AAU tournaments. It's safe to say that the game of basketball takes over Vegas for that week. Fellow Jordan Brand athletes Jabari Parker, Carmelo Anthony, and Russell Westbrook made appearances along with Devin Booker and Victor Oladipo to name a few.
The timing also coincided with Team USA under 18 activities so some key players were missing, most notably Michael Porter and Trae Young of MoKan Elite. Somehow, even without their top two players MoKan was able to reach the championship game where they fell to Team CP3. The tournament was full of exciting games including an almost miraculous comeback from Mac Irvin Fire who hit a barrage of 3s to erase a 20+ point deficit late in the second half. The court was spectacular as Jordan Brand tends to create some of the most incredible basketball ambiances in the world and it was a joy to create my shots from these sidelines in particular.
This wraps up part 1 of my 2016 review. Please check back next week for part 2 where I will share images and experiences from the Rio Olympic games and much more. Feel free to leave any questions in the comments section.